Small market baseball fans are cute and all. They expect so much. They love their team.
But they're stupid.
Yes, I'm a small market fan. But I get it.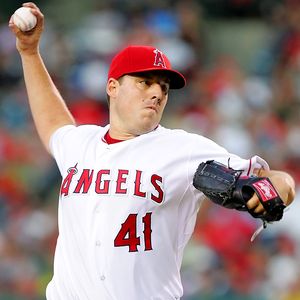 I get that I shouldn't expect the Brewers to make the playoffs every season. I shouldn't expect them to make it any season. If they do, it's an enormous success.
If you're a smart small market fan, you don't expect more than a .500 season. I use the word "expect," but most fans "demand" it.
That's foolish. When your team thrives on the success of its farm system and low cost/high risk free agents, you need to adjust your expectations accordingly.
So it's free agent season. What are we hearing out of Brewers fans?
Sign John Lackey! Sign another ace! Trade for an ace! Sign Prince Fielder to a long-term contract! The pitching staff sucks! Open your wallet!
Idiots.
John Lackey is not signing with the Brewers. Prince Fielder is as good as gone (two years left, max). The Brewers will bring in some new pitchers, but they will be mid level, once again.
[Note: They signed Randy Wolf and Doug Davis. As much as any fan could have expected.]
It's how it works in Milwaukee. It's how it works in most baseball towns. We're set up for disappointment. Those who get that have reasonable expectations. Those who don't, ask for the general manager's head.
During the past five years, only one team with a payroll in the bottom half has a record in the top nine.
During the past five years, only two teams with a payroll in the bottom half have a record in the top 14.
Only four of those teams have a combined record of .500 or better.
The Brewers, last year, had a payroll that was 16th overall. It's freaking Milwaukee, people. You can't expect more than that. In fact, that's the absolute most a rational person should expect.
They won 80 games last season. Some were disappointed. To be honest, they've done pretty well the past five seasons. They are one of those teams with a combined record over .500.
But if GM Doug Melvin doesn't spend big money, fans will be asking for his head. Because he's an idiot.
Apparently.
Spoiled. Spoiled because Melvin brought Milwaukee CC Sabathia in a deadline deal in 2008 that propelled the Brewers to the playoffs. Spoiled because now these fans expect a similar trade, signing and outcome every season.
Forget it. If you want to enjoy your team, first see baseball through the eyes of your team's general manager.
The Brewers still have a solid nucleus of talent. Young talent. Few teams can boast a better pre-free agency group of Prince Fielder, Ryan Braun and Yovani Gallardo. And Rickie Weeks, Casey McGehee, Alcides Escobar and Corey Hart ain't too bad either.
But filling the holes is a major problem. You can't fill every hole from within. And you can't fill those holes with proven veterans through free agency -- it will be too expensive.
So there's an awful lot of gambling going on. You roll the dice. You spend a little. You hope.
You hope for .500.
Or you can hope for John Lackey. Or whatever other ace is out there who will inevitably sign with the Yankees or a similar team
[eh hem -- Red Sox]
.
You can hope that. But don't demand it. It's irrational. It's stupid.
Even a little cute.